Join the Conversation
Follow us on Facebook
With Louisiana's legal climate having been dubbed a "judicial hellhole" by the American Tort Reform Association, groups and individuals alike are calling for reform of the judicial system that has cost the state $1.1 billion a year. Families and businesses in Louisiana are being forced to seek out work in other states, as the current climate at home is such that the costs of having a company in Louisiana is simply not practical when compared to neighboring states, such as Texas. Read and share: ... See MoreSee Less
A law firm that was once king when it came to Texas storm litigation has been sued by a Hidalgo County attorney claiming he is owed money from the wave of lawsuits that were brought after hailstorms devastated the Rio Grande Valley six years ago. Read and share: bit.ly/2RV1oDl ... See MoreSee Less
A South Florida couple's $5 million lawsuit complaining they had been charged the full price of a Quarter Pounder with Cheese, even though they requested the burger not have cheese, has been thrown out. Read and share: ... See MoreSee Less
I jve literally asked this question dozens of times. Why do they charge extra for add ins but no discount if you omit? 🤷🏻‍♂️😂😂😂
Courts have better things to do.
Of course was dismissed by at judge. Total nonsense and abusive our system.
A $0.90 overcharge does not result in $5M in damages. Under our system of civil justice, any plaintiff can sue any defendant (usually limited to those with deep pockets) for any reason and for any alleged amount of damages regardless of the case's merit. If the system called for common sense measures, plaintiffs (and their attorneys) who file frivolous lawsuits would be liable for the legal defense of the defendants. But such an action is probably too logical.
I order like this all the time. Never think about suing. Just enjoy my burger the way I like it.
They should have had to pay McDonald's for bringing up such a stupid law suit and the attorney that took the case should have been hanged.
They should be counter sued for full legal fees.
Follow us on Twitter
#ICYMI — The Trump administration has stepped up scrutiny of asbestos trust funds, concerned that the pots of money intended to help people exposed to the hazardous substance are being depleted by fraudulent claims. Read & RT: https://t.co/QqgQP6mTfT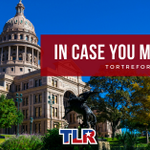 Supporting TLR is an investment in the future of our law, our economy and our society. Join the TLR team today! https://t.co/JM06AkXWKC
#ICYMI — Days after Hurricane Harvey hit, a law firm specializing in suing insurance companies offered to counsel school districts hammered by the storm "behind the scenes" and at "NO COST." Read & RT: https://t.co/E7damrL38J